Ad blocker interference detected!
Wikia is a free-to-use site that makes money from advertising. We have a modified experience for viewers using ad blockers

Wikia is not accessible if you've made further modifications. Remove the custom ad blocker rule(s) and the page will load as expected.
---
Welcome to A Wheel of Time Wiki,
We are currently working on
6,069
articles
Spoiler Warning
This wiki contains spoilers for all books in the series! Read articles at your own risk.
Parent Page
Please visit our Parent Page for information regarding the appropriateness of the series.
---
First published in 1990, Robert Jordan began an epic series called The Wheel of Time. For the next seventeen years, readers experienced eleven books of rich and expansive storytelling. However, on September 16th, 2007, Robert Jordan passed away due to cardiac amyloidosis. His legacy is carried on by Brandon Sanderson, a fellow fantasy author and Wheel of Time fan. With the help of Harriet Rigney, Robert Jordan's wife and editor, Mr. Sanderson continues a journey over twenty years in the making.
"Let the Dragon ride again on the winds of time."
All manner of characters populate the vast world of the series. With fourteen books and a prequel, The Wheel of Time series contains thousands of characters, from Aes Sedai, Warders, and nobility, to humble farmers and maids, from powerful warriors to those sworn to peace in all they do.
---
---
Featured Article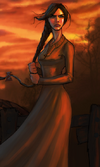 Nynaeve al'Meara is typically described as having dark eyes and a long dark braid, which she often yanks in times of exasperation. She is also described as being relatively short and slim. Rand thinks she is pretty. In the beginning of the series, Nyneave vocally expresses her liking of "stout" Two Rivers wool clothing, but along the course of the books she demonstrates a finer sense of fashion, wearing fine silks, usually in the colors of blue or green (which happen to be Lan's favourite colors). In traditional Aes Sedai fashion, she wears yellow to formally show that she is in the Yellow Ajah. At the moment she wears her bracelet and ring angreal as well as several ter'angreal (including a Well) on her person- even while she sleeps. Nynaeve's father thought of her as the son he never had and taught her to track, hunt and fish. Unlike fellow tomboy Min, however, Nynaeve later integrated femininity in her adulthood. Older than the rest of the Emond's Fielders who left after Winternight, Nynaeve was the village Wisdom, or healer, by the time Moiraine Sedai and her warder Lan Mandragoran arrived. (more...)
---
| | |
| --- | --- |
| Quote of the Day | |
---
The Wheel of Time is © Copyright Robert Jordan.
The phrases The Wheel of Time™ and The Dragon Reborn™ are trademarks of Robert Jordan.