For other Atha'an Miere isles, see Isles of the Atha'an Miere.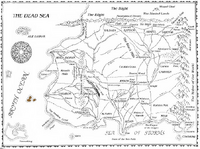 Aile Jafar is an archipelago that is controlled by the Atha'an Miere and Amayar. The islands are situated just west of Tarabon. The Seanchan currently occupy the islands.
Recent activities
Edit
The Wavedancer, an Atha'an Miere raker, sailed to Aile Jafar after leaving Tanchico.[1]