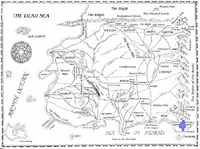 The Bay of Remara is a large bay at the far southeast corner of the Westlands at the end of the Spine of the World. The Drowned Lands lie to the east. Tear ends at the western shore at the city of Godan. The city-state of Mayene lies on the peninsula to the southeast.
Ad blocker interference detected!
Wikia is a free-to-use site that makes money from advertising. We have a modified experience for viewers using ad blockers

Wikia is not accessible if you've made further modifications. Remove the custom ad blocker rule(s) and the page will load as expected.