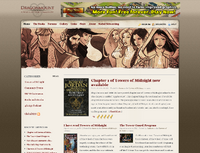 For other uses of the term dragonmount, see Dragonmount (disambiguation).
Dragonmount.com is one of the oldest and largest fan websites about the Wheel of Time series, founded by Jason Denzel in 1998. It is notable for hosting the blog of Robert Jordan before his death and has continued with some of Jordan's family contributing to the blog. It also has an extensive fan forums and exclusive news updates directly from TOR itself. The site is currently going through their 8th revision.[1]
External links
Edit
Ad blocker interference detected!
Wikia is a free-to-use site that makes money from advertising. We have a modified experience for viewers using ad blockers

Wikia is not accessible if you've made further modifications. Remove the custom ad blocker rule(s) and the page will load as expected.