A paralis-net is a type of ter'angreal device first created during the Age of Legends. Specifically, it is a ter'angreal platform on which a group of angreal and ter'angreal can be worn and/or used together as a complete set.
Semirhage reveals the name of such a set as a paralis-net.[1]
Appearance
Edit
Paralis-nets seem to come in all different shapes. Cadsuane Melaidhrin owns one, which is a set of golden ornament-like angreals and ter'angreals that is worn in her hair.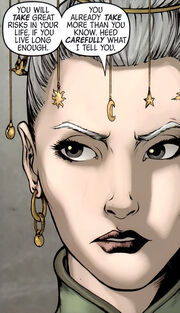 Cadsuane's set includes the following:
The ter'angreal defense set that Nynaeve al'Meara has is also possibly a paralis-net. Although not worn in her hair, Nynaeve's set of jewelry has parallel functions to that of Cadsuane.[8]
Rand al'Thor, after gaining all the memories of Lews Therin Telamon, also remembers wearing the original male version of a paralis-net.[9]
The overall use of a paralis-net greatly varies. Generally, they seem to do the best to cover all angles and needs that the wearer may have, such as having one ter'angreal to act as a Well and another one to detect the channeling of saidin.
Ad blocker interference detected!
Wikia is a free-to-use site that makes money from advertising. We have a modified experience for viewers using ad blockers

Wikia is not accessible if you've made further modifications. Remove the custom ad blocker rule(s) and the page will load as expected.