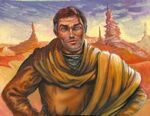 The Sovin Nai is an Aiel warrior society. The name means "Knife Hands" in the Old Tongue.
The Knife Hands are often considered the best hand to hand combatants of the Aiel, it is said that one of the most interesting spars found among the Aiel are two Sovin Nai fighting with only hands and feet.  Some have even been known to prefer fighting in this manner, and leaving spears as a last resort in the Dance.
Activities
Edit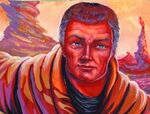 All of the societies, including the Sovin Nai, accompanied Rand al'Thor from the Sun Palace in Cairhien to Caemlyn in Andor to battle Rahvin and his forces.[1]