"That pretty little slip of a girl? A village Wisdom? Why, at her age, she should better be flirting with the young men than foretelling the weather and curing the sick."
   —
Thomdril Merrilin
External summary
EWoT
TarValon.net
Point of view: Rand
Thomdril Merrilin, the gleeman, emerges from the Winespring Inn and entertains Rand, Mat, Perrin, Egwene, and Ewin, as well as many other villagers.
The performance is interrupted, however, by the arrival of Moiraine and Lan. There is tension between the gleeman and the visiting Lady, but he assures her all of his stories will be pleasing.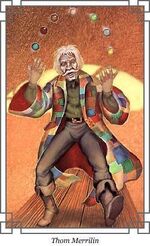 After a while, Nynaeve and the Village Council emerge from their questioning of Padan Fain. Tam informs Rand that they will be returning to their farm that night. On the way, Tam reveals that several other village boys have spotted the strange rider, and that a watch is being mounted.
Characters
Edit
Referenced
Edit
People from Gleemen stories:
Referenced
Edit
Referenced
Edit
Referenced
Edit
Referenced
Edit
The Gleeman

The Eye of the World/Chapter 4
Ad blocker interference detected!
Wikia is a free-to-use site that makes money from advertising. We have a modified experience for viewers using ad blockers

Wikia is not accessible if you've made further modifications. Remove the custom ad blocker rule(s) and the page will load as expected.