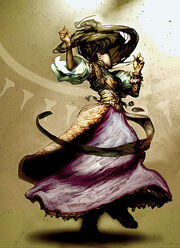 "Outstretched arms spread her shawl behind her; her hips undulated as her bare feet shuffled to the beat of the drums....She turned in small circles, smiling over her shoulder at him."
   —
The Eye of the World
,
Chapter 27
The tiganza is a sensual dance performed by Tuatha'an women. The dance involves shuffling steps to the slow beat of drums, small circular turns, and a slow rotation of the hips that is emphasized by the sway of a fringed shawl. It is usually done barefoot to the light of the campfire.[1]
Perrin describes the tiganza as the Tinker women's swaying, hip-rolling dance that sets the heart pounding.[2]
Ad blocker interference detected!
Wikia is a free-to-use site that makes money from advertising. We have a modified experience for viewers using ad blockers

Wikia is not accessible if you've made further modifications. Remove the custom ad blocker rule(s) and the page will load as expected.